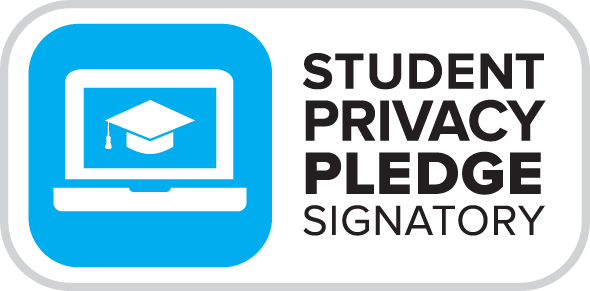 Catalyst K12 is a signatory to the Student Privacy Pledge, agreeing to a set of principles to safeguard student privacy regarding the collection, maintenance, and use of student personal information. The commitments are intended to concisely detail existing federal law and regulatory guidance regarding the collection and handling of student data.
Learn more about the Student Privacy Pledge at studentprivacypledge.org.
Overview
Catalyst lets teachers level-up their behavior management by automating responses to observed behaviors, and providing new insights at the school, classroom, and individual student levels. Doing this often means teachers are providing and accessing information relating to students and entrusting that information to us. We take this responsibility very seriously and care deeply about safeguarding student privacy.
This privacy policy explains how Catalyst K12, LLC ("Catalyst", "we", "us") collects and uses information from its sites (e.g. admin.catalystk12.com, signup.codes, catalystk12.com), mobile apps, and any other software or services (collectively, the "Service" or "Services").
To make this simpler to read, this privacy policy is written to school officials ("you", "teachers", "administrators"), i.e. the primary users of the Service. When referring to others, such as students or their parents or guardians (Collectively, "parents") it will be noted as such.
Information Catalyst collects
Student information
Catalyst collects the minimal amount of information about students necessary to use our Service. To record observations, respond to student behavior, and analyze trends, you or your school must first add roster information to the Service. This may include:
Class names and times
Student name
Student email address
Student's school ID number
Student's phone number
Parent's name
Parents email address
Parents phone number
This information may be entered directly by a teacher, provided in bulk by the school, entered by the student (at the teacher's direction and with parental consent or school consent), or populated from a third party sign-in service such as a Google account.
Other information provided by you
When signing up for the service you may provide, or your school may provide on your behalf:
Your name
Your email address
Your phone number
School name
School address
While using the Service you may enter observations and notes about students, or other information at your discretion.
You may also contact us (e.g. via phone or email) at your discretion to ask questions, provide suggestions, or otherwise share your thoughts and experiences.
Information collected automatically
We, or our service providers, may automatically receive and log information from your browser or your device when you use the Service. If we combine any automatically-collected information with personal information, we will treat the combined information as personal information, and it will be protected as per this privacy policy.
We collect information about the device you use to access the Service to help us diagnose problems and understand which technologies and platforms we need to support. This includes things such as software name (e.g. browser name, or Catalyst app name) and version, IP address, and operating system. This information is collected by server logs as well crash reports when you experience problems.
We (or our service providers) may use various technologies to collect and store information when you visit our Service. We may use cookies and other tracking mechanisms to track information about your use of our Services. Cookies are alphanumeric identifiers that we transfer to your computer's hard drive through your web browser for record-keeping purposes. Some cookies allow us to make it easier for you to navigate our Services, while others are used to enable a faster log-in process or to allow us to track your activities at our Site and Service. We may combine this information with other personal information we collect from you.
We may also engage third parties, such as Google Analytics, to track and analyze data from our Services and to evaluate usage of our site and our apps. We use the data collected to help us improve the quality of our Services, to analyze site and app usage, and to help us improve our Services, performance, and user experiences. These entities may use cookies and other tracking technologies to perform their services. These third parties are not permitted to use the information collected on our behalf, except to help us conduct and improve our business. We do not share personal information with these third parties.
When you visit our company webpage (only https://catalyst.com - not the sites where student data is managed) we use third parties, such as Google or Facebook, to understand how you found us and where you clicked a link.
How Catalyst uses the information
First and foremost, you should know that Catalyst does not sell or rent any personal information to any third party for any purpose - including for advertising or marketing purposes. We use the information we collect from you to provide you with the best experience on our Services. More specifically, this information is used:
To provide our Services, to respond to inquiries, and for other customer service purposes
To provide reports about data collected through the service
To understand how the Services are being used in order to improve them and better tailor them to your needs
For marketing and promotional purposes. We may use the information collected from you to send you newsletters, tips and hints, special offers or promotions, or otherwise contact you about products or information we think may be of interest. We will not send marketing or promotional materials to students or parents.
We require that our vendors with whom student personal information is shared in order to deliver the educational service, if any, are obligated to implement the same commitments for the given student personal information as we do.
Push notifications, SMS text messages, and emails
You have the option to request notes sent to parents, students, or other individuals when you record observations. You can specify what to send, to whom, and under what conditions. When directed by you, Catalyst may send push notifications, SMS text messages, and/or emails to students or parents.
We will never send anything to students or parents except as directed by you.
Conditions for sharing information
Catalyst does not sell or rent any personal information to any third-party for any purpose, including advertising or marketing. Catalyst will never use or disclose student information (whether personal information or otherwise) for behavioral targeting of advertisements to students.
We may share data under these limited circumstances:
Others you share with: You may choose and consent to share information collected through the Service with other school officials, parents, or students. Likewise, your school may opt to have information collected through the Service automatically shared between school officials they authorize to access it
Analytics We use analytics services, including mobile analytics software, to help us understand and improve how the Service is being used. These services may collect, store and use information in order to help us understand things like how often you use the Service, the events that occur within the application, usage, performance data, and from where the application was downloaded.
Aggregated information and non-identifying information: We may share aggregated, non-personally identifiable information publicly. For example we may use it to demonstrate how the Service is used, highlight trends that have been observed, or to provide marketing materials for Catalyst. Any aggregated information shared this way will not contain any personal information.
Testimonials: If you provide a testimonial, tips for use, or other information you want to share with others, we may post it publicly with your consent. With your permission this may include your name, school name, photo, video, and other information you agree to share. You may request removal of your personal information in this context at any time (help@catalystk12.com)
Legal requirements: We may release personal information when we believe in good faith that release is necessary to comply with the law (such as to comply with a subpoena); or protect the rights, property, or safety of Catalyst, our employees, our users, or others. We will try to give you notice if we release information for these reasons, but please understand that we reserve the right not to, as it may not be practical, legal, or safe to not do so.
Change of control: If Catalyst is involved in a merger, acquisition or asset sale, we will continue to ensure the confidentiality of any personal information and give affected users notice before personal information is transferred or becomes subject to a different privacy policy. In such an event, you will have the choice to withhold the transfer of personal information. In the unlikely event that Catalyst goes out of business, or files for bankruptcy, we will protect your personal information, and will not sell it to any third party.
With your consent: Other than the cases above, we won't disclose your personal information for any purpose unless you consent to it.
How Catalyst secures information
We have implemented measures designed to secure personal information from accidental loss and from unauthorized access, use, alteration and disclosure. Among other things, information is encrypted in transit to and from Catalyst using SSL technology. In addition, all information is stored on secure servers behind firewalls by our hosting providers. In addition, consistent with guidance from the U.S. Department of Education that storing sensitive education records within the United States is a "best practice", all the servers used by Catalyst are located in the United States.
You may help protect against unauthorized access to your account and information collected through the Service by selecting and protecting your password appropriately and limiting access to your computer and browser by signing off after you have finished accessing your account.
All that said, unfortunately, the transmission of information via the internet is not completely secure and, although we do our best to protect personal information, neither we nor any other hosted service provider can absolutely guarantee the security of all personally identifiable information. Outages, attacks, human error, system failure, unauthorized use or other factors may compromise the security of user information at any time. If we learn of a security breach, we will attempt to notify you electronically (subject to any applicable laws) so that you can take appropriate protective steps; for example, we may post a notice on our homepage or elsewhere on the Service, and may send email to you.
How you can access and manage the data collected
Catalyst aims to provide you with easy access to any personal information we have collected about you. If that information is incorrect, we give you easy ways to update it, or to delete it, unless we have to keep that information for legitimate business or legal purposes.
Additionally, you can always decline to share personal information with us, and even block all cookies. However, understand that many features of the Service may not be accessible, or may not function properly.
Catalyst does not retain personal information longer than is reasonably necessary for use of the Service, in order to fulfill the purpose for which it was disclosed.
Upon request, we will provide you with information about whether we hold any of your personal information, and, if you are a user of the Service, you may request access to all your personal information we have on file by contacting us at help@catalystk12.com. In some cases, we may not be able to guarantee complete access due to legal restrictions - for example, you will not be allowed to access files that contain information about other users or information that is confidential to us. We may not be able to fulfill requests that are unreasonably repetitive, require disproportionate technical effort or would be extremely impractical.
You may, at any time, update, correct, or delete certain personal information that you have provided to us by contacting us at help@catalystk12.com. We will respond to your request within a reasonable time frame. Please note that while your changes may be reflected promptly in active content, users that have previously accessed the content may still have access to old copies cached on their device or may have copied and stored your content. In addition, we may retain a backup copy of the prior version for a limited period of time or for legal purposes.
How Catalyst changes this privacy policy
We may update this privacy policy from time to time. If we make changes, we will post the updated policy on this page with the date it was updated. If we make material changes we will notify you by email using the primary email address you provided or by a posting a prominent notice on the Service. Your rights will never be reduced under this privacy policy, and we will never materially change our practices of collection or use of personal information without your explicit consent.
Contact us
We'd love to hear your feedback on our privacy policy. If you have any thoughts, questions, or concerns you'd like to share please contact us.
Via email
help@catalystk12.com
Via phone:
(312) 493-3760
Via mail:
Catalyst K12, LLC
1237 E Wellwood Dr
Lockport, IL 60441
Last updated
Last updated April 02, 2018